User:Synapse
Jump to navigation
Jump to search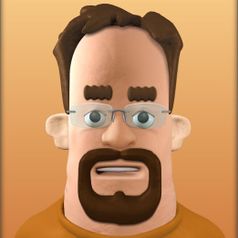 | | |
| --- | --- |
| C | This user is physically dependent on Carbon. |
| | |
| --- | --- |
| INTP | This user has tested as INTP on the Myers-Briggs Type Indicator assessment. |
| | |
| --- | --- |
| OSC | This user is a fan of Orson Scott Card. |
| | |
| --- | --- |
| | This user Develops his bots with IBM's Eclipse. |
Background
26 year old computer guy; I periodically turn to RoboCode when I want to make sure I can still program the need to program can't be staved off any longer.
Bots
I submitted j.SynapticBot 2+ to the original rumble in the beginner class. SynapticBot reached the semi-finals [1], where it was bested by Ares, the Beginner class winner. Overall, it ranked 5th in the Beginner class.
More information on implementation details is at the SynapticBot main page.
Watermelon is retired now; it provides the foundation for Geomancy.
My current bot is Geomancy. It uses autoselected segmentation for surfing and shooting.
Development rewrite of Geomancy from the ground up. I've learned a lot about Java with Geomancy and I think I can rewrite its basic structure in a way that will make further development much simpler.
Doesn't exist yet, but if I ever make a mini, micro, or nano, this will be its name.